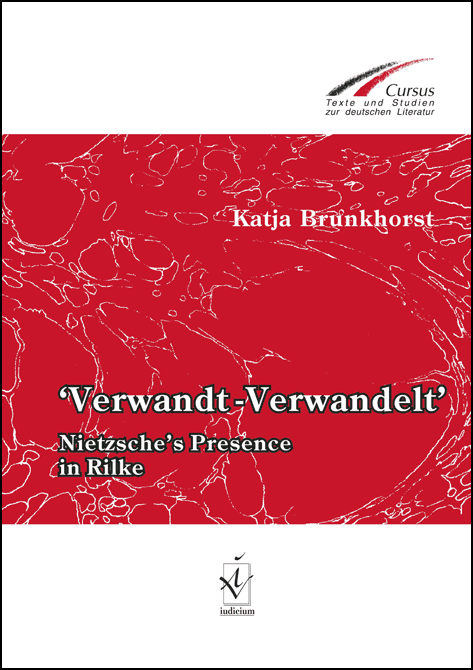 Brunkhorst, Katja
'Verwandt-Verwandelt'. Nietzsche's Presence in Rilke
2006 • ISBN 978-3-89129-476-5 · 231 S., kt. · EUR 25,—
Häntzschel, Günter; Kleinschmidt, Erich (Hg.): Cursus. Texte und Studien zur deutschen Literatur (Bd. 25)
Rilke's relationship to Nietzsche is still nowhere near fully explored. This is due to the poet's peculiar silence regarding the inescapably influential philosopher, as well as to a frequently acknowledged lack of evidence regarding that influence, the existence of which remains heatedly debated and, at best, speculatively assumed within scholarship. The recent discovery, however, of two copies of Nietzsche's Also sprach Zarathustra amongst Rilke's possessions has changed the status quo, as both contain reading traces identified as Rilke's in one case, and (most probably) Lou Andreas-Salomé's in the other. This unprecedented find not only proves for the first time Rilke's familiarity with that book, but also makes visible which particular Nietzschean themes were of special interest to the poet. It is this study's aim to trace Nietzsche's presence, rendered tangible by those themes, in Rilke's work and enquire whether, where and how he transformed it poetically.
In the first part, potential arguments against this objective are addressed. An investigation of the legitimacy of a comparison of a Dichter and a Denker is followed by a thorough record of the state of research on 'Rilke and Nietzsche' so far, whilst an alternative methodological approach, a 'reader-response-poetics' (rather than -theory) drawing on both Nietzsche and Rilke themselves, is offered. Then, following the documentation of the new findings, the resulting scholarly desiderata this study sets out to meet are defined.
The second part completes the theoretical framework by uniting all remaining evidence such as Rilke's own statements and those of his contemporaries regarding his reading of Nietzsche. The role of Lou Andreas-Salomé in both men's lives, along with Rilke's 'Marginalien zu Nietzsche' found in her estate, will also be discussed. Moreover, Zarathustra is introduced in two chapters, taking into account the circumstances of both Nietzsche's writing, and Rilke's reading, of it.
The third and last part – structured in analogy to the first three Zarathustra books – consists of in-depth textual analysis of representative Nietzsche passages marked by Rilke, along with interpretations of Rilkean works found to be relevant in their respective contexts. This process, during which the main topics Rilke apparently found most arresting in Nietzsche crystallized almost automatically, has ultimately also brought to light the continuity of Rilke's reception of Nietzsche throughout his literary career.